Welcome! We have thousands of old football cards for sale. We feature cards graded by PSA, SGC, and BVG, and we also carry a large number of ungraded cards. Use the searches below to find cards from your favorite set, team, player, or college.
Search by Player
Who's your favorite player?
Search by Team
Team collectors, start your search here!
Search by College
Find cards of alumni from your favorite school.
Gift Certificates
Need a gift for your card collector? Not sure what he or she wants? Buy a Nearmint gift certificate! Any amount is fine, and we can deliver it via email or US mail. Just email us or call 720 849 1495 to order.
Email List
Join our email list and get 10% off all orders!
(Be sure to respond to the confirmation email.)
Visit the Vintage Football Card Gallery!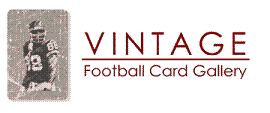 The Vintage Football Card Gallery is a reference site for football cards from 1888 to 1978. Along with pictures of the cards, it includes trivia and tools of interest to football card collectors and football fans. Nearmint's Blog contains a tour of the gallery.
eBay Listings
Here are a few of our eBay listings. Click here to see the rest. Check out our eBay Feedback, too.
Nearmint News
Whenever I put more cards up for sale, I put a note here. Check back often!
******Nearmint's Cards is closed until December 20. If you place an order, we will mail your cards then.*****
Nearmint's Blog Headlines
Nearmint's blog includes bits of football card trivia and links to other interesting sites. Here are the latest entries.
Follow Us on Facebook, Google+, and Twitter!
Copyright 2003-2013, Nearmint Sports Cards