November 11th, 2008 | Published in New in the Gallery | 8 Comments
As the About page says, the Vintage Football Card Gallery is a reference site. The cards in the gallery are not for sale, but I do have lots of cards for sale on my Nearmint's Vintage Football Cards site.

You can search the gallery for your favorite set, team, player, or college. To do complex searches, such as "Show all the rookie cards of Hall of Fame players named Bob," try the Advanced Search page.
On the Site Map you will find links to other miscellaneous pages. Among them: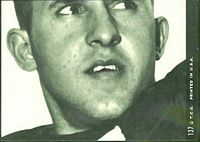 I add to the gallery whenever I have time, so check back occasionally for new cards. Enjoy your visit!