December 1st, 2013 | Published in Interactive Team Cards, New in the Gallery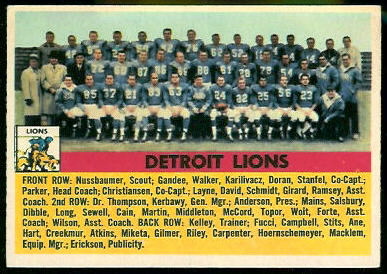 Last week I added an interactive 1956 Topps Detroit Lions team card to the Vintage Football Card Gallery. To see it, click on the non-interactive image shown here.
Though it was printed in 1956, the card pictures the 1955 Lions team. About eight of the players in the photo never appeared on cards of their own. One of the things I enjoy about making these team cards is giving the cardless players a little recognition.
This is my tenth interactive 1956 Topps team card; I have two more to go. Next up: the Los Angeles Rams.