March 12th, 2014 | Published in CFL Cards, New in the Gallery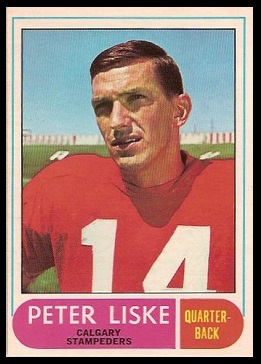 Last week I finished adding 1968 O-Pee-Chee CFL football cards to the Vintage Football Card Gallery. As I have said before, one thing I enjoy about browsing CFL sets is finding players who also played in the NFL or AFL. The 1968 O-Pee-Chee set contains several players who had brief NFL or AFL careers, but who never appeared on an American football card.
The 1968 O-Pee-Chee set also includes one player, Pete Liske, who appeared on AFL, NFL, and CFL cards. He is now the fifth player to appear on my Cards in Three Leagues page. Liske was named the CFL's Most Outstanding Player in 1967.
A huge thanks to CFL collector Larry Oleskiw, who provided the images for the 1968 O-Pee-Chee set. Larry also sent me images for several other Canadian sets, and I will add those to the Gallery as I have time.