January 18th, 2014 | Published in error cards, Where They Are Now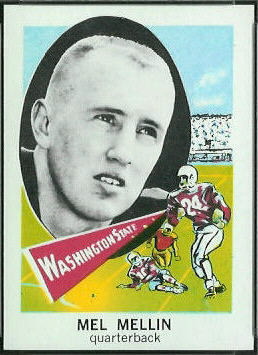 Error card collectors, here is another error card that is not marked in the price guides: on Mel Melin's 1961 Nu-Card card, his last name is misspelled "Mellin." Thanks to Philip, a visitor to my web sites, for pointing that out.
After starring at Washington State, Melin went on to play four seasons for the CFL's BC Lions. He appeared on at least one football card with BC, a 1963 Post Cereal CFL card. I don't yet have the 1963 Post CFL set in the Vintage Football Card Gallery, but you can probably see the Melin card on eBay.
For more on Mr. Melin, check out "Where Are They Now: Mel Melin" on the Washington State University web site. To see more errors on old football cards, see the error card search page of the Vintage Football Card Gallery.