December 11th, 2009 | Published in ABCs of Vintage Football Cards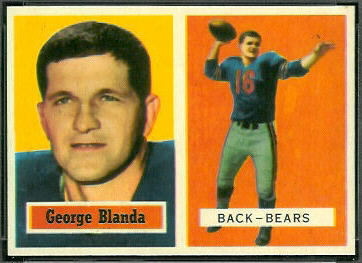 Card companies love quarterbacks, and quarterbacks appear on more than their share of vintage cards. This isn't surprising, since quarterbacks are typically the most recognizable members of their teams. Even considering that, at times the card companies have gone a little quarterback crazy. As I wrote in other posts, the only two Packers in the 1953 Bowman set are quarterbacks, and there are four Bears quarterbacks in the 1957 Topps set.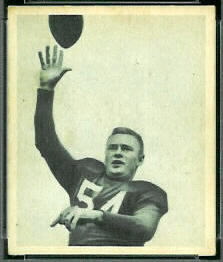 One set that isn't quarterback crazy is the 1935 National Chicle set. Only 2 of the 36 National Chicle cards are quarterbacks. In 1935, football was still primarily a running game, with rushing attempts outnumbering passing attempts 2.5 to 1, and rushing yards exceeding passing yards 1.5 to 1. By 1948, when the next major football card issues were released, these ratios had changed dramatically, and total passing yards for the league had surpassed total rushing yards. Football cards reflected this shift: the 1948 Bowman set, for example, includes 17 quarterbacks for 10 teams. The black-and-white "Pitchin'" Paul Christman card shown here is from the 1948 Bowman set.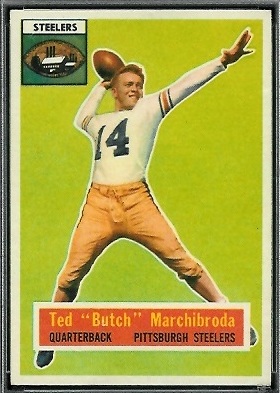 As the passing game emerged, quarterbacks also became more photogenic. On nearly all old quarterback cards, the quarterback is holding the ball, and in most cases, he's ready to pass. He's often straining to throw it past imaginary defenders: running, jumping, and otherwise contorting himself. Sometimes an artist would even enhance the contortions. Check out John Huarte's 1965 Topps card–he looks like a puppet!
Quarterbacks also have lots of stats, of course, and fans love stats. I actually remember being disappointed as a kid when I turned over a lineman's card and didn't see any stats. Quarterbacks have relatively long careers, also, and that makes for plenty of material for the backs of the cards.
Interestingly, it seems that the card companies were more apt to put unproven quarterbacks on cards than players from other positions. In 1957, for example, Topps printed a card of Cardinals quarterback Paul Larson, but not one of Lamar MaHan, who had been the Cardinals' starting quarterback for three years. McHan remained the starter in 1957, and Larson threw just 14 passes. In 1960, Fleer printed another card of Larson, this time with the Raiders. The Raiders' starting quarterback in 1960 were Tom Flores and Babe Parilli, but they did not appear in the 1960 Fleer set. Larson appeared in only one game, and he did not throw a pass.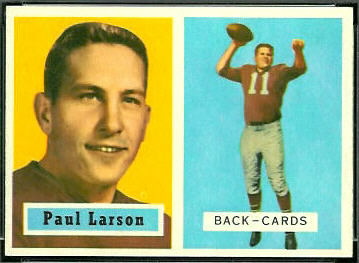 By contrast, defensive players (see D is for Defensive Players) and offensive linemen usually had to play well for a few years before the card companies would put them on cards. I suppose that the card companies, in order to maximize sales, simply printed cards of players with the greatest name recognition. Quarterbacks might be well-known right out of college, while other players in other positions needed to play in the pros for a while before becoming household names.
To query the Vintage Football Gallery for all of the quarterbacks from your favorite team, just use an address of this form: http://www.footballcardgallery.com/position/quarterback/team/Washington+Redskins/. This works for other positions, as well.