September 5th, 2012 | Published in Player Deaths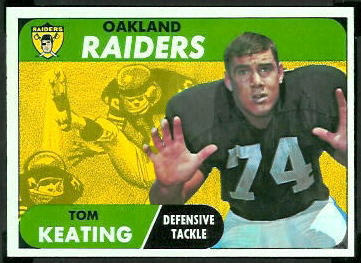 Tom Keating has passed away; he played defensive tackle from 1964 to 1975 for the Buffalo Bills, Oakland Raiders, Pittsburgh Steelers, and Kansas City Chiefs. There is an article about Keating on the San Francisco Chronicle web site. Keating played on the three American Football League championship teams: the 1964 and 1965 Bills, and the 1967 Raiders. The 1967 Raiders team went on to play Green Bay in Super Bowl II.
The card pictured here is Keating's 1968 Topps football card. In 1968, Topps honored the prior season's Super Bowl contestants, the Raiders and Packers, by giving their cards a different design than the rest of the teams. Keating also appeared on a 1965 Topps card, a 1970 Topps card, and a 1972 Sunoco Stamp.