January 25th, 2011 | Published in Football Card Trivia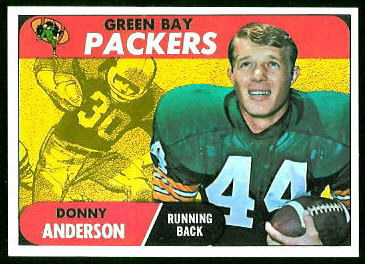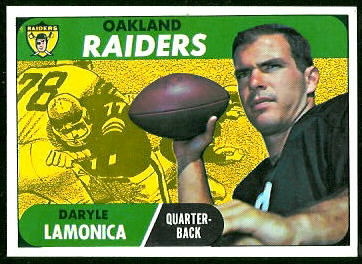 In 1968, after the NFL and AFL decided to merge, Topps became the sole major producer of American football cards for the first time since 1959. The 1968 Topps football card set was the first since 1961 to contain cards of both NFL and AFL players. To mark the occasion, Topps decided to honor the teams who had participated in the first two NFL-AFL World Championship Games–or, as they came to be known, the first two Super Bowls.
First, Topps honored the Super Bowl II contestants, the Green Bay Packers and Oakland Raiders, by using a horizontal format and alternate design for their cards. The two examples pictured here are Donny Anderson, on his rookie card, and Daryle Lamonica. You can see all of the horizontally-oriented 1968 Topps Packers cards and 1968 Topps Raiders cards in the Vintage Football Card Gallery.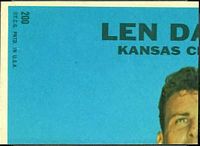 Second, Topps honored the quarterbacks of Super Bowl I, Bart Starr of the Packers and Len Dawson of the Kansas City Chiefs, by putting puzzles of them on the backs of some of the 1968 second series cards. The piece pictured here, Dawson's right eye, is on the back of Ernie Wright's card. A page in the gallery shows both assembled puzzles. Oddly, for Dawson's puzzle, Topps chose a seven- or eight-year-old photo from when he was still with the Browns, though they had been picturing him in his Chiefs uniform since 1965.