June 16th, 2011 | Published in New in the Gallery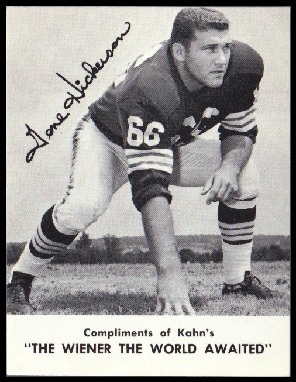 This week I added 1962 Kahn's Wieners football cards to the Vintage Football Card Gallery. There are 38 cards in this set: sixteen Browns, fourteen Steelers, and a sprinkling of players from six other teams. Kahn's Meats was (and still is) based in Cincinnati, and the early Kahn's sets were heavily weighted toward players from nearby Cleveland and Pittsburgh.
The 1962 Kahn's set includes a pre-rookie card of Gene Hickerson, pictured here. Hickerson's generally recognized rookie card (because it was issued by a major card company) is in the 1966 Philadelphia set. (For a discussion about rookie cards and pre-rookie cards, see an earlier article, R is for Rookie Cards.)
According to beckett.com, Kahn's also issued an album to hold their 1962 cards, but I have not seen one yet.
Thanks again to Mike Ford, who provided images for several of the Kahn's sets.