December 24th, 2009 | Published in ABCs of Vintage Football Cards | 6 Comments
As I wrote on my pre-rookie cards page, "rookie card" is an unfortunate term. Years ago, most players' "rookie" cards were not printed in their rookie years, but sometime later, after they were established as pros. Many players, even Hall of Famers, didn't appear on cards until well into their careers. Some didn't appear on cards until long after their playing days were over. Dick Lane, for example, had 14 interceptions–still a league record–as a rookie for the Rams in 1952, but he didn't appear on a card until 1957. Don Hutson played for the Packers from 1935 to 1945, but no one printed football cards from 1936 to 1947, so Hutson's rookie card is a 1955 Topps All-American.
So "first card" would be a more accurate term than "rookie card." Even that isn't quite right, though, since players sometimes appeared on cards in minor sets before their rookie cards were issued. To be a rookie card, it is understood that a card has to have been printed by a major card company, such as Topps or Bowman. And it has to be a regular issue card, not an insert. So "first regular issue card printed by a major card company" is more precise, though it would make for a long abbreviation.
And there's even some contention about that: PSA's Pro Football Hall of Fame Rookie Players registry set accepts either 1950 Topps Felt Backs or 1951 Bowmans for the rookie cards of Lou Creekmur and Ernie Stautner. Why? Perhaps because the 1950 Topps Felt Backs are small and ugly. So the registry's definition of rookie card is "first regular issue card printed by a major card company, unless it's small and ugly, in which case you can substitute a different one."
There are other slight hitches. One is that sometimes cards picture the wrong player. Packer fullback Jim Taylor's rookie card, a 1959 Topps, actually pictures Jim Taylor of the Cardinals. So does his 1960 Topps card. The 1959 Topps card is generally known as Taylor's rookie card, but his picture doesn't actually appear on a card until 1961. Some collectors consider his 1961 Topps and 1961 Fleer cards to be his real rookie cards, and Taylor himself reportedly won't sign his 1959 Topps card.
Also, how about the 1964 Philadelphia Packers' Play of the Year and Colts' Play of the Year cards, which have small images of Vince Lombardi and Don Shula? Are they Lombardi and Shula's rookie cards? I would say so, but my Beckett doesn't have them marked as such. It does have them priced like rookie cards, though.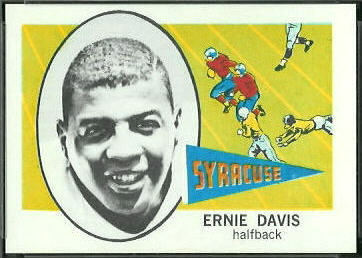 And why aren't cards in the 1961 Nu-Card set considered rookie cards? Roman Gabriel, John Hadl, and Ernie Davis all appear in that set, but their Topps cards from later years are considered their rookie cards. The Nu-Card set pictures college players, but so do the 1951 Topps Magic and 1955 Topps All-American sets, and cards in those sets can be rookie cards. Is the 1961 Nu-Card set not considered a major issue? To my knowledge, the cards were distributed nationally, and there are plenty of them around, so they seem to me to be a major issue.
Whether or not a card is a rookie card has a large influence on its price, of course. Rookie cards, especially of Hall of Famers, are popular with collectors, so there is a high demand for them. Why are rookie cards more popular than other cards? Well, honestly, I think that someone with an early influence on the hobby–perhaps someone compiling a price guide–said "rookie cards should be worth more," collectors said "okay," and so it was. Intuitively this makes some sense, since older cards are generally scarcer than newer ones, and a player's first card would tend to be his scarcest. This certainly isn't true in all cases, though, so declaring rookie cards more valuable than others is largely artificial.
Perhaps rookie cards were declared valuable to help fuel the modern card market. Modern card collectors like to buy new players' rookie cards, speculating that the players will become stars and their cards will become valuable. Collectors in the vintage card market do some of this, too: since rookie cards of Hall of Fame players are valuable, collectors speculate by buying cards of senior candidates for the Hall of Fame. The Bob Hayes rookie card pictured here is an example of a card whose price jumped recently, when Hayes was elected to the Hall of Fame.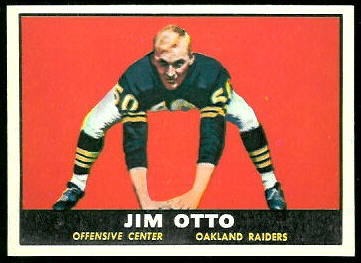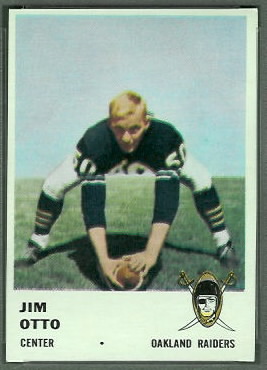 Some players have more than one rookie card; this happened when more than one company printed cards of the same league in the same year. Sammy Baugh has a 1948 Bowman rookie card, for instance, and also a 1948 Leaf rookie card. Jim Otto has both 1961 Topps and 1961 Fleer rookie cards. For most years before 1970, though–the years I think of as vintage–only one company per year printed cards for a given league, if anyone printed football cards at all.
It seems to me that the concept of a rookie card serves as a convenient way to identify a player's most desirable card. Which card is a player's rookie card can sometimes be ambiguous, but identifying a player's rookie card is much less contentious than, say, trying to decide on his most attractive card, or his scarcest. Picking a most desirable card for each player helps collectors narrow their collecting focus: they can collect rookie cards of Hall of Famers, Heisman winners, players from their favorite team, etc.
I have 80-90% of the rookie cards marked in the Vintage Football Card Gallery, including those of players who appear on only a card or two. You can use the Advanced Search page to look for rookie cards in combination with other criteria.