July 29th, 2009 | Published in error cards, Football Card Oddities, Inserts | 2 Comments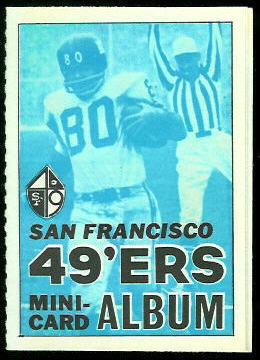 An article in the Topps Archives blog has a nice description of the 1969 Topps 4-in-1 stamps and albums. (Scroll to the bottom of the article.) I was looking through some 4-in-1's today, and I noticed a few odd things worth mentioning:
First, though there is an mini-album for each team, most of the albums have players from other teams pictured on their covers. The 49ers album pictured here shows number 80 from the Giants scoring a touchdown, and there are no 49ers to be seen, just the referee with his hands in the air. Surely they could have found an action photo of a 49er?
Second, the Topps Archives article mentions that several players appear in the 4-in-1's (and thus in the mini-albums), but they do not appear in the main 1969 Topps set. But it's odder than that: five of the players in the 4-in-1's don't appear on a card of their own in any major set! The five who appear only on these bitty stamps are Reg Carolan, Solomon Brannan, Carl Cunningham, Dennis Randall, and Jim LeMoine.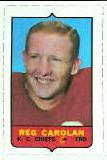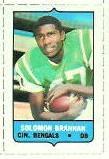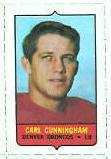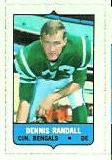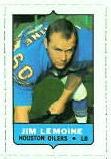 Third, as the article mentions, 65 cards were needed to yield 260 stamps, 10 for each team, but there are 66 cards in the 4-in-1 set. One card–Johnson, Katcavage, Triplett, and Lewis–is repeated, with the labels for the player names colored differently. When I think about it, the double print makes sense, since there are 264 cards on a typical uncut sheet, and 66 is a quarter of 264. I'm guessing that each of the 66 cards appeared four times on the sheet.
Finally–and this is just an error–the stamp of Bob Brown says it's Bob Brown of the Rams, but it's really Bob Brown of the Packers. To see this error and a lot more like it, check out my Mistaken Identities page.
I also find it a bit odd that PSA will grade individual stamps in this set. (There are usually a few on eBay.) I don't know why anyone would want an individual stamp graded, since they don't sell for much, but PSA will oblige and take the grading fees. Perhaps people submit individual stamps when the 4-in-1 card as a whole is damaged. Because of the perforations around the stamps, the cards bend easily, and you will often see small creases emanating from the perforations to the edges of the cards.