October 31st, 2010 | Published in Funny Poses, Silly Stuff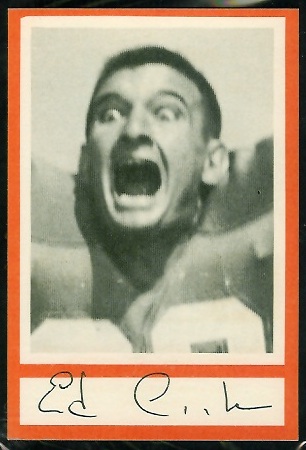 Happy Halloween! This is the scariest vintage football card I can think of, easily topping last year's Don Hutson card. It's a 1967 Royal Castle Dolphins card of Ed Cooke, which I recently added to the Vintage Football Card Gallery. (See my earlier article about the Royal Castle Dolphins cards.) The image appears to have been cropped from a 1966 Dolphins press photo, an example of which I found on eBay. The seller of the press photo, historicimages01, has other sports photos on eBay, as well.
I believe that this is Cooke's only card, though he played in the NFL and AFL for ten seasons. He got around, spending time on six different teams. His longest stint was with the New York Titans/Jets, where he spent four seasons. There is a slightly less scary photo of Cooke at fanbase.com.
So, what's your favorite scary football card?