April 7th, 2013 | Published in Milestone Birthdays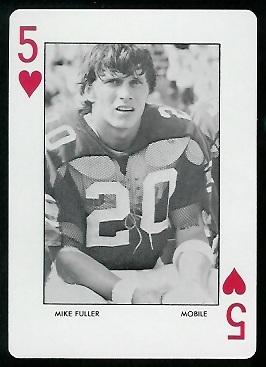 Mike Fuller, who played safety from 1975 to 1982 for the San Diego Chargers and Cincinnati Bengals, is celebrating his 60th birthday today. Fuller also returned over 300 punts and kickoffs in his NFL career. He was a member of the 1981 Bengals team that played the San Francisco 49ers in Super Bowl XVI.
Prior to his pro career, Fuller was an All-American at Auburn University. There is a summary of his college career on the Auburn web site.
Fuller is pictured here on his 1972 Auburn playing card. He also appears on a few other cards in the Vintage Football Card Gallery.
Happy birthday, Mr. Fuller!