November 1st, 2013 | Published in Interactive Team Cards, New in the Gallery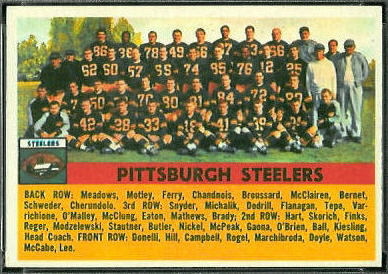 Today I added an interactive 1956 Topps Pittsburgh Steelers team card to the Vintage Football Card Gallery. To see it, click on the non-interactive image shown here. Though it was printed in 1956, the card pictures the 1955 Steelers team. You can see a larger version of the 1955 Steelers team photo at steelersuk.com.
As usual, I found a couple of surprises while working on the interactive card. First, I was surprised to see Hall of Fame running back Marion Motley in the back row. I didn't know it, but Motley, after sitting out the 1954 season, finished his career with Pittsburgh in 1955. Second, center Fred Broussard appears on this card, and he also appears on the 1956 Topps New York Giants team card! Broussard, it turns out, played for both Pittsburgh and New York in 1955, and he ended up in both team pictures.
About nine of the players on the Steelers card never appeared on cards of their own. It's always fun to give those players a little recognition.
This is my ninth interactive 1956 Topps team card; I have three more to go. Next up: the Detroit Lions.