August 12th, 2013 | Published in Interesting eBay Auctions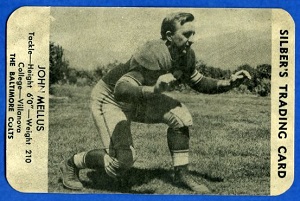 I just saw this card pop up on eBay; it's a scarce 1949 Silber's Bakery Baltimore Colts card of John Mellus. I don't see Silber's cards very often, so I thought I'd point this one out before it sells.
There is also a Y.A. Tittle pre-rookie card in the Silber's set, as well as a card of Rex Grossman Sr. You can see the Tittle card and a description of the set in one of my previous articles.
Update: the seller has also listed a Silber's card of Charlie O'Rourke. O'Rourke later appeared on a card in the 1955 Topps All-American set.