May 15th, 2013 | Published in Milestone Birthdays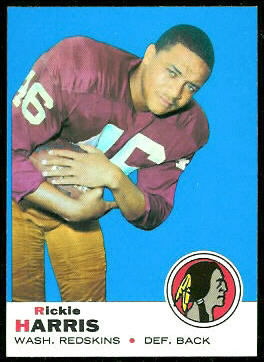 Former NFL and WFL player Rickie Harris is celebrating his 70th birthday today. Harris was a defensive back and return specialist from 1965 to 1972 for the Washington Redskins and New England Patriots. He had the NFL's longest punt return in 1969, 86 yards for a touchdown. He finished his career in the World Football League, playing for the Florida Blazers in 1974 and the Memphis Southmen in 1975.
Harris is shown here on his 1969 Topps football card. He appeared on several other cards, as well.
Happy birthday, Mr. Harris!