May 13th, 2013 | Published in Interactive Team Cards, New in the Gallery | 1 Comment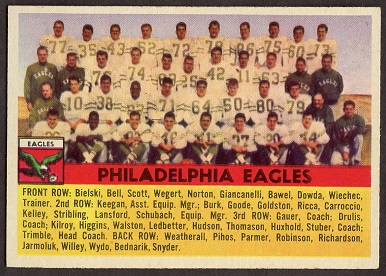 The newest interactive team card in the Vintage Football Card Gallery is the 1956 Topps Philadelphia Eagles team card. Clicking on the image pictured here will take you to the interactive version.
At least one of the players on the card will be familiar to CFL fans. After three seasons with the Eagles, Ralph Goldston played nine seasons for the Hamilton Tiger-Cats, and in those nine seasons, he played in seven Grey Cups. Goldston appeared on several cards with the Tiger-Cats.
I will continue to work on the remaining 1956 Topps team cards as I have time. Next up: the Cleveland Browns.