May 12th, 2013 | Published in Milestone Birthdays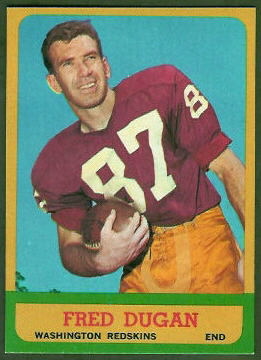 Former NFL end Fred Dugan is celebrating his 80th birthday today. Dugan played from 1958 to 1963 for the San Francisco 49ers, Dallas Cowboys, and Washington Redskins. His best season was 1961, when he gained 817 yards on 53 receptions for the Redskins.
Dugan is shown here on his 1963 Topps football card, one of the short prints in the set. He appeared on several other cards, as well.
Dugan is the 493rd oldest living pro American football player, according to oldestlivingprofootball.com.
Happy birthday, Mr. Dugan!