May 1st, 2013 | Published in Interactive Team Cards, New in the Gallery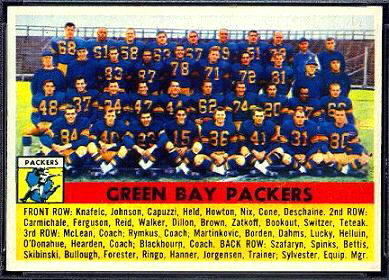 I recently added another interactive team card to the Vintage Football Card Gallery, the 1956 Topps Green Bay Packers card. Clicking on the card pictured here will take you to the interactive version.
I enjoy working on these team cards because it gives me an opportunity to acknowledge the players who never appeared on cards of their own. On this card, for instance, there are two members of the Packers Hall of Fame who never had their own cards. One is Deral Teteak, who starred at linebacker and guard for the Packers from 1952 to 1956. The other is Bud Jorgensen, who, after a brief playing career, served as an equipment manager and trainer for the Packers for 47 years.
Over time, I hope to make all of the team cards in the Gallery interactive. For those of you who haven't seen them, here are the others I have done so far: 1958 Topps Baltimore Colts, 1959 Topps New York Giants, 1961 Topps Green Bay Packers, 1963 Topps Dallas Cowboys, 1964 Topps Oakland Raiders, and 1967 Philadelphia Cleveland Browns.