April 16th, 2013 | Published in CFL Cards, Milestone Birthdays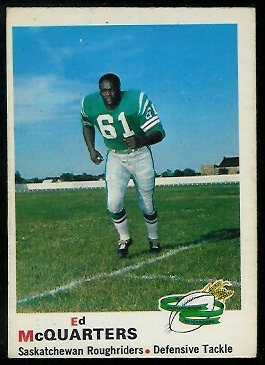 Ed McQuarters, who was elected to the Canadian Football Hall of Fame in 1988, is celebrating his 70th birthday today. McQuarters played defensive tackle for the CFL's Saskatchewan Roughriders from 1966 to 1974. He played in four Grey Cups (CFL championship games), of which the Roughriders won one, in 1966. He was named the CFL's Most Outstanding Lineman in 1967.
McQuarters played college football at the University of Oklahoma, and he was drafted by the St. Louis Cardinals in the 1965 NFL draft. He played in one game for the Cardinals before moving to the CFL. (See my Cups of Coffee page for other players who played in exactly one NFL, AFL, or AAFC game.)
McQuarters is pictured here on his 1970 O-Pee-Chee CFL football card.
Happy birthday, Mr. McQuarters!