March 17th, 2013 | Published in Milestone Birthdays
Two players in the Vintage Football Card Gallery are celebrating milestone birthdays today: Tom Bettis is 80, and Chuck Muncie is 60.
Tom Bettis played linebacker from 1955 to 1963 for the Green Bay Packers, Pittsburgh Steelers, and Chicago Bears. He was a member of two NFL Championship teams, the 1961 Packers and the 1963 Bears. After his playing career, Bettis held numerous coaching positions in the NFL, including a stint as interim head coach of the Kansas City Chiefs in 1977. There is a nice summary of Bettis's career at InstantNewsKaty.com.
According to oldestlivingprofootball.com, Bettis is the 495th oldest living professional football player. He is pictured here on his 1963 Topps card, one of the short prints in the set. He also appeared on a two cards with the Packers.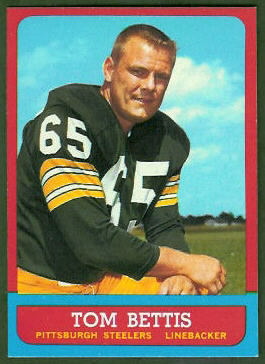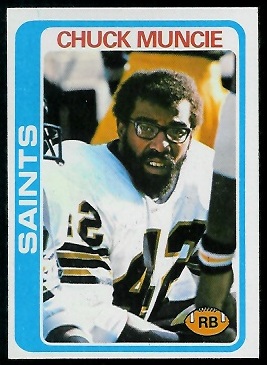 Chuck Muncie was a running back from 1976 to 1984 for the New Orleans Saints and San Diego Chargers. Muncie gained over 1000 yards twice, in 1979 and 1981, and in 1981 he led the NFL with 19 touchdowns. Before his pro career, Muncie starred at the University of California, finishing second in voting for the Heisman in 1975. (See my page of football cards of Heisman Trophy candidates.)
After football, Muncie founded a youth foundation in California. He is pictured here on his 1978 Topps football card.
Happy birthday, Messrs. Bettis and Muncie!