March 7th, 2013 | Published in Milestone Birthdays | 2 Comments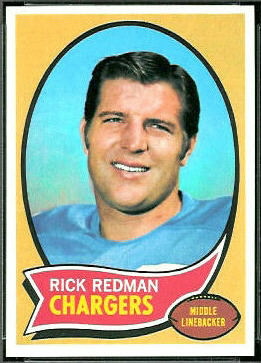 Longtime San Diego Charger Rick Redman is celebrating his 70th birthday today. Redman played linebacker for the Chargers from 1965 to 1973, and he was also the team's punter for his first three seasons. He made the AFL Western Division All-Star team after the 1967 season.
Before his pro career, Redman starred for the University of Washington. He was elected to the College Football Hall of Fame in 1995.
Redman is pictured here on his 1970 Topps football card. He appeared on several other cards, also. Unfortunately, one of them, his 1965 Topps rookie card, actually pictures Larry Elkins. You can see that card and others that picture the wrong player on my Mistaken Identities page.
Happy birthday, Mr. Redman!