February 14th, 2013 | Published in Milestone Birthdays | 2 Comments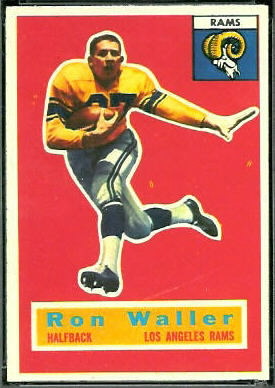 Happy Valentine's Day! Three players in the Vintage Football Card Gallery have milestone birthdays today: Ron Waller is 80, and Mike Raines and Morris Owens are 60.
Ron Waller was a running back and kick returner for the Los Angeles Rams from 1955 to 1958. He also played for the AFL's Los Angeles Chargers in their first season, 1960. In 1955, his rookie year, Waller led the NFL in all-purpose yards, and he made the Pro Bowl that season. Much later, in 1973, Waller was the head coach of the San Diego Chargers for the last six games of the season. In 1974 he coached the Philadelphia Bell of the World Football League. According to oldestlivingprofootball.com, Waller is the 493rd oldest living pro football player.
Waller is pictured here on his rookie card, a 1956 Topps. He appeared on three other cards, as well.
Mike Raines, a defensive lineman, played two games for the San Francisco 49ers in 1974. (One game less, and he would have made my Cups of Coffee page.) He then moved to the CFL, where he played from 1975 to 1982 and was a member of two Grey Cup championship teams. He finished his career with three seasons in the USFL. Raines is pictured here on his 1972 Alabama Playing Card. He also appeared on a 1973 Alabama Playing Card, identical except for the year on the back.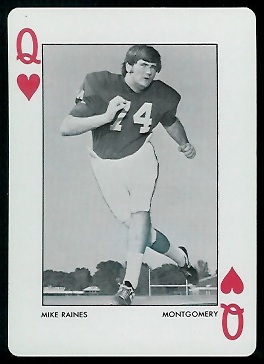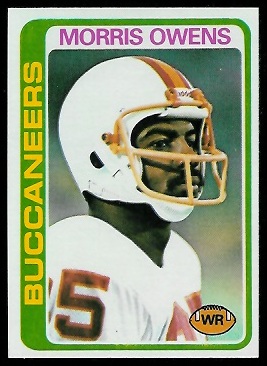 Morris Owens was a wide receiver from 1976 to 1979 for the Miami Dolphins and Tampa Bay Buccaneers. Owens caught the first touchdown pass in Tampa Bay franchise history–from Louis Carter, who also turned 60 this month–and he was the Buccaneers' leading receiver for three straight seasons, 1976 to 1978. He is shown here on his 1978 Topps card.
Happy birthday, Messrs. Waller, Raines, and Owens!