February 10th, 2013 | Published in Milestone Birthdays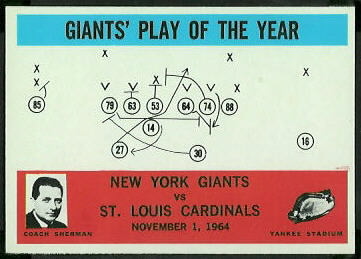 Allie Sherman, former NFL player and head coach, is celebrating his 90th birthday today. Sherman played from 1943 to 1947 for the Philadelphia Eagles, and he was the head coach of the New York Giants from 1961 to 1968. Sherman led the Giants to the league championship game in each of this first three seasons, and he was named NFL Coach of the Year in 1961 and 1962. He was inducted into the National Jewish Sports Hall of Fame in 1995. According to oldestlivingprofootball.com, Sherman is the 68th oldest living pro football player.
As far as I know, Sherman never appeared on a football card of his own. There is a small photo of him, however, on the 1964 Philadelphia and 1965 Philadelphia Giants Play of the Year cards. The 1965 card is pictured here.
Happy birthday, Mr. Sherman!