February 7th, 2013 | Published in Milestone Birthdays
We have two milestone birthdays today: Rudy Kuechenberg is 70, and Robert Brazile is 60. Kuechenberg played linebacker from 1967 to 1971 for the Chicago Bears, Green Bay Packers, Cleveland Browns, and Atlanta Falcons. He also played for the Chicago Fire of the World Football League, in 1974. Kuechenberg's younger brother, Bob, was a guard for fourteen seasons with the Miami Dolphins. Rudy Kuechenberg appeared on one football card, the 1969 Topps card pictured below.
Robert Brazile played linebacker from 1975 to 1984 for the Houston Oilers. He was the NFL's Defensive Rookie of the Year in 1975, and he made the Pro Bowl seven consecutive seasons after that. (The Corpus Christi Caller-Times web site has a nice summary of his career.) Brazile is pictured below on his 1978 Topps football card, and there are a couple more of his cards in the Vintage Football Card Gallery.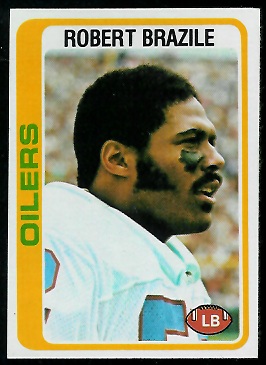 Happy birthday, Messrs. Kuechenberg and Brazile!