October 3rd, 2012 | Published in Silly Stuff | 1 Comment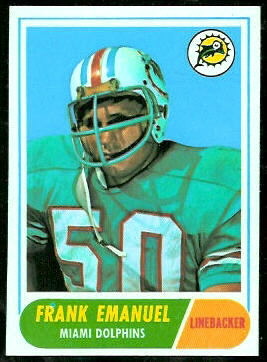 I have always thought that this 1968 Topps Frank Emanuel card was the worst rookie card ever. As you can see, the image on the front is awful: Emanuel's helmet is askew, and you can't even see his eyes. The back of the card doesn't help. It happens to be a piece of a Len Dawson puzzle, so Emanuel didn't even get the customary bio and stats. Topps atoned a bit in 1969, giving him a good looking card, complete with stats on the back.
Any other nominations for worst rookie card ever?