July 3rd, 2012 | Published in Player Deaths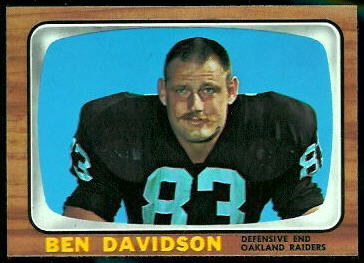 Ben Davidson, a defensive end from 1961 to 1971 for the Green Bay Packers, Washington Redskins, and Oakland Raiders, passed away today. There is a story and photo gallery on the Contra Costa Times web site. Davidson was a member of the Packers' 1961 NFL Championship team and the Raiders' 1967 AFL Championship team. He was an AFL All-Star in 1966, 1967, and 1968.
After football, Davidson acted in over two dozen movies and television series, including Conan the Barbarian and Necessary Roughness. See his IMDB page for a full list.
Davidson appeared on numerous football cards, stamps, and team photos as a Raider. His 1966 Topps card is pictured here. You can see all of Ben Davidson's cards in the Vintage Football Card Gallery.