September 15th, 2011 | Published in CFL Cards, Player Deaths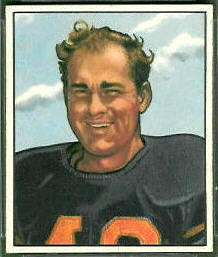 Robert "Buddy" Tinsley, a member of the CFL Hall of Fame, passed away on September 14. After spending one year, 1949, with the AAFC's Los Angeles Dons, Tinsley played eleven seasons for the CFL's Winnipeg Blue Bombers. In those eleven seasons, he played in five Grey Cup (CFL championship) games. The Blue Bombers won two of them, in 1958 and 1959.
Though he never played in the NFL, Tinsley appeared on a 1950 Bowman card for the Pittsburgh Steelers. When the AAFC folded after the 1949 season, the AAFC's Colts, 49ers, and Browns joined the NFL, and players from the other AAFC teams were distributed among the NFL teams in a "dispersal draft." The Steelers chose Tinsley in the first round, but he opted to play in Canada instead. (See Tinsley's CFL Hall of Fame page for a brief summary of his career.)
Tinsley also appeared on a number of CFL cards. I don't have them in the Gallery yet, but you can find most of them on eBay.
A few other members of the CFL Hall of Fame appeared on NFL football cards, as well. You can search for cards of CFL Hall of Famers in the Vintage Football Card Gallery.