June 26th, 2011 | Published in New in the Gallery, Oddball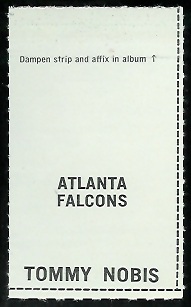 Last week I added 1969 Glendale Stamps to the Vintage Football Card Gallery. There are 312 stamps in the set, 12 each for the 26 NFL teams of the time. The stamps are slightly smaller than 2×3 inches.
The stamps were printed on panels of 12, and they were designed to be stuck in a special album. The album contains a page for each NFL team, and each team page contains a bio for each player and a place for his stamp. The full stamp panels were approximately the same height and width as the album, so I assume that the stamps and album came packaged together. The album was published by Glendale Publishers, Inc., of New York City.


Oddly, the title of the stamp album is "Official 1970 Pro Football Stars," though Glendale apparently published it in 1969. The copyright date inside the album is from 1969, and the players' bios include their performances in 1968, but not 1969. (Click on the image below to see a larger image.)


There are three Hall of Famers in the 1969 Glendale set whose stamps predate their rookie cards: O.J. Simpson, whose rookie card is a 1970 Topps; Jan Stenerud, whose rookie card is also a 1970 Topps; and Gene Upshaw, whose rookie card is a 1972 Topps. I have added the three stamps to my pre-rookie card page.