January 10th, 2011 | Published in CFL Cards, Player Deaths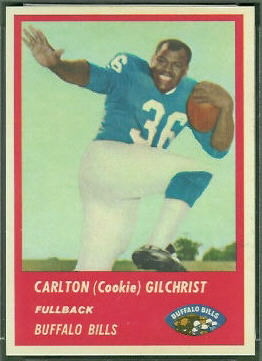 Cookie Gilchrist, who played fullback from 1962 to 1967 for the Buffalo Bills, Denver Broncos, and Miami Dolphins, passed away this morning. He was a member of the Bills team that won the American Football League Championship in 1964. Before playing in the AFL, Gilchrist spent six seasons with the Hamilton Tiger-Cats, Saskatchewan Roughriders, and Toronto Argonauts of the Canadian Football League. There is a comprehensive article about Gilchrist's career on the Pro Football Researchers web site.
The card pictured here is Gilchrist's 1963 Fleer football card. He also appeared on Topps AFL football cards each year from 1964 to 1967. His 1963 Fleer card is considered his rookie card, though he appeared on several CFL cards prior to 1963.