September 30th, 2010 | Published in error cards, Interesting eBay Auctions | 1 Comment
There are two cards on eBay this week that I seldom see for sale: a 1955 Topps All-American Whizzer White card with Gaynell Tinsley's bio, and a Gaynell Tinsley card with Whizzer White's bio. Both were graded 8, or NM/MT, by PSA. It apparently didn't take Topps long to correct their error in 1955, because these two cards are much scarcer than the corrected versions. The back of each error card is shown here.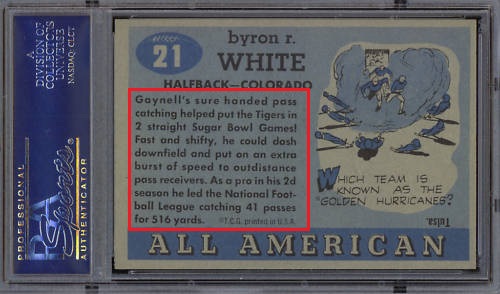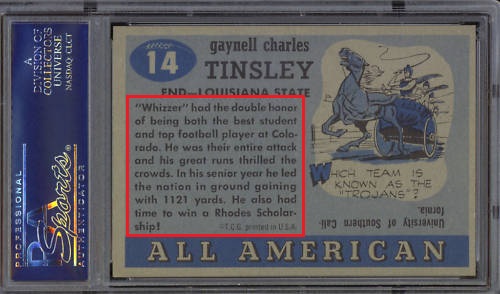 Years ago, when I first read about these errors, I assumed that the backs of the cards were swapped in their entirety. Wrong-back cards are fairly common; you can see a few of them on my 1960 Fleer virtual uncut sheet page. It was only recently that I learned that only the bio sections of the White and Tinsley cards are swapped. This is why the descriptions in the price guides say Gaynell Tinsley (Whizzer White bio) and Whizzer White (Gaynell Tinsley bio). Duh.
I have always thought that the corrected Whizzer White card was undervalued, considering that it is his rookie card, and that he served as a U.S. Supreme Court justice for 31 years after his football career. White's card sells for only about double the price of a common in the 1955 All-American set, and the price guides put it at two or three times the price of a common. His error card sells for much more, but that is because of its scarcity, not his fame.
For more on the 1955 Topps All-American set, see A is for All-Americans.