July 28th, 2010 | Published in Football Card Oddities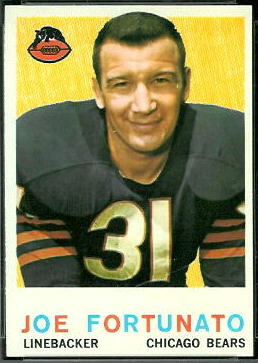 Last week a reader asked me why there aren't any Chicago Bears in the first series of 1959 Topps football cards. My expert answer was, "Huh, I never noticed that." But the reader was right: the 1959 Topps first series cards are numbered 1 through 88, and the Bears cards are all numbered 90 and higher. Topps compensated by putting eleven Bears in the 88-card second series, but, over the whole set, the Bears are still outnumbered by every other team.
Imagine being a young Bears fan, spending all of your paper route money on a stack of wax packs, and not getting any cards of your favorite team! Why might the Bears have been omitted? Did they send their photos to Topps too late to make the first series? Did Topps forget that Chicago had two teams? My guess is that Topps and the Bears had some sort of contract problem, but that's only a guess. If anyone else has more information, please let me know.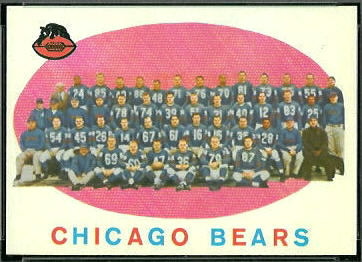 Ironically, the Bears team card is one of the three easiest 1959 Topps cards to find in high grade, the others being the Giants and Steelers team cards. All three cards are in the second series, which appears to have been printed in greater quantities than the first series. (This is unusual: Topps typically printed the earlier series in greater numbers.) All three were also in the interior of the full sheet (see my virtual uncut 1959 Topps sheet), so they were less susceptible to damage in production than cards on the edge of the sheet. And, finally, I think that the team cards' oval interior design makes them more forgiving of cutting problems. The other cards in the set–namely the player and team pennant cards–have rectangular interiors, making off-centering and diamond cuts more obvious.