December 9th, 2009 | Published in My Collection, New in the Gallery, Oddball | 5 Comments
A couple of weeks ago, I wrote that I bought a set of 1972 Sunoco stamps on eBay. Well, I received them, and I'm very pleased. The stamps are just as described, and the seller packed them well: stars in sleeves and top loaders, and commons in team bags. The auction included a deluxe stamp album, and the seller also threw in a checklist and two stamps from the update set. (They're the Norm Thompson and Dave Costa stamps pictured here.) It was great fun opening the package: I kept pulling out more and more stuff! The seller, rl1114, has lots of other items for sale, too, so check him out.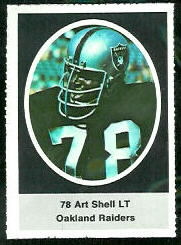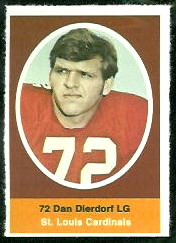 It will probably take me months to scan the stamps for the Vintage Football Card Gallery, so I'll write blog entries for intermediate steps. So far I entered all of the players' names, added personal information (college, position, hometown, etc.) for some of the players, and scanned the five pre-rookie stamps in the set so I could add them to my pre-rookie card page. Two of the pre-rookies are pictured here: Dan Dierdorf and Art Shell.
The stamp album is still in its original shrink wrap, but I'm curious, so I'll probably have to unwrap it. Maybe that will be my next article on the set.