October 30th, 2009 | Published in ABCs of Vintage Football Cards, Sites I Like | 1 Comment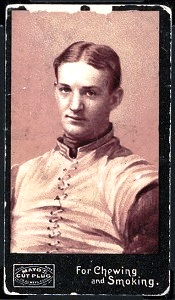 The first set of football cards was the 1894 Mayo Cut Plug tobacco card series. The 35-card set, which was distributed in tins of chewing tobacco, includes only college players from Princeton, Harvard, and Yale. There is a nice article about the Mayo cards on The Harvard-Yale Football Gallery, a site dedicated to the Harvard-Yale rivalry. According to the article, one of the Princeton players in the set, "Poe," was related to Edgar Allan Poe. Another card in the set pictures an unnamed Yale player, initially listed as "Anonymous," but later identified as John Dunlop. The Dunlop card is the rarest card in the set.
You can see the entire set of 1894 Mayo Cut Plug cards in the Vintage Football Card Gallery. A big thanks to Goodwin and Co. Auctions for allowing me to use their scans.