July 23rd, 2009 | Published in Football Card Trivia | 7 Comments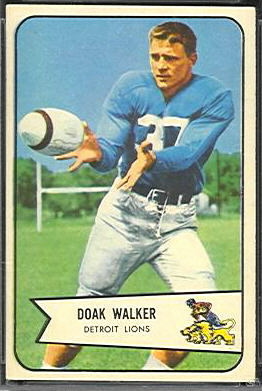 If you browse through the 1952-1954 Bowman cards in the Vintage Football Card Gallery, you will find a few that show the player with a white football. Two are pictured here: a 1953 Bowman Fran Polsfoot and a 1954 Bowman Doak Walker. According to profootballresearchers.org, the NFL and AAFC used a white football in night games from 1929 to 1956, to help the players see the ball in poor lighting. Wikipedia's article on the Cleveland Browns says that in the 1950s, the NFL also prohibited teams from wearing white helmets and jerseys in night games, so that the white ball could be seen against the players' uniforms. Some teams thus had different helmets and jerseys for day and night games.
The other mysterious white football is the big, ugly one with the player's name in it that is part of the design of 1953 Bowman cards. To me, the big football overwhelms the rest of the card and makes the 1953 set the least attractive of the early Bowmans. Might it have been inspired by the NFL's use of the white ball? On Pete Pihos's card, Bowman actually put the big white ball in his hands!