July 4th, 2009 | Published in error cards | 1 Comment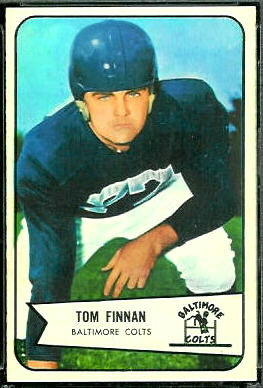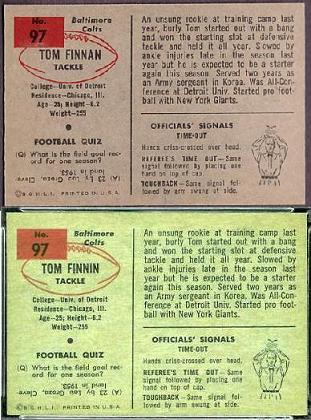 There are two versions of 1954 Bowman football card number 97. My Beckett price guide calls them "97A Tom Finnin ERR" and "97B Tom Finnan COR." PSA lists the two versions as "Tom Finnin (incorrectly spelled)" and "Tom Finnan" in their price guide, and in their population report they say the two versions are "Tom Finnin – Wrong Last Name On Back" and "Tom Finnan – Correct Last Name On Back." SGC's population report says "TOM FINNAN – Error 'Finnin' Reverse" and "TOM FINNAN."
So which is right? As it turns out, none of the above.
Indeed, one version of the card says Tom Finnan on both sides, and the other says Tom Finnan on the front and Tom Finnin on the back. But according to nfl.com, databasefootball.com, and pro-football-reference.com, the correct spelling of Tom's last name is Finnin. So both cards are error cards: one is wrong on both sides, and one is wrong on just the front.
So which version of the card is harder to find? My old Beckett says "Tom Finnin ERR" is worth $60 and "Tom Finnan COR" is worth $8 in near mint condition. PSA's price guide says a PSA 7 "Tom Finnin (incorrectly spelled)" is worth $75 and "Tom Finnan" is worth $14. PSA's population report says that they have graded three times as many "Tom Finnan – Correct Last Name On Back" cards as "Tom Finnin – Wrong Last Name On Back" card. But then I have an example with Finnin on the back that PSA has labeled "ERROR-TOM FINNAN." That label doesn't match either of the versions listed in PSA's population report.
It appears that the card with "Finnan" on the back is more common than the one with "Finnin" on the back. But with all the confusion over the two versions of the card, it's hard to say how scarce the latter card really is.
Search for 1954 Bowman cards on: eBay, Nearmint's Cards