August 10th, 2011 | Published in Player Deaths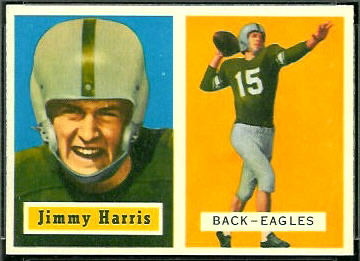 Jimmy Harris, a defensive back in the NFL and AFL from 1957 to 1961, passed away on August 8. Harris played one season each for the Philadelphia Eagles, Los Angeles Rams, Dallas Texans, and Dallas Cowboys. He did not play the 1959 season.
Before his pro career, Harris was a star quarterback at Oklahoma. He went 25-0 over three seasons, contributing over half of the wins in the Sooners' 47-game winning streak. NewsOK.com has an account of Harris's college career, along with lots of photos.
The card pictured here is Harris's rookie card, a 1957 Topps. Topps apparently colored a college photo of Harris to put him in Eagles green, because the image closely resembles the photo in the NewsOK.com article, and Harris wore number 20 for the Eagles, not number 15. The image on Harris's 1960 Fleer card appears to have come from the same photo session, as well.
Harris appeared in a Dallas Texans uniform on a 1961 Fleer card and a 1961 Fleer Wallet Photo, but he played for the Cowboys that season.