February 4th, 2012 | Published in Player Deaths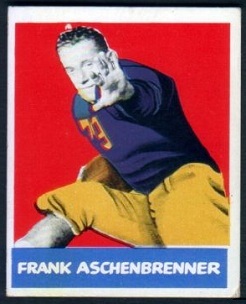 Frank Aschenbrenner, a star halfback for Northwestern University in 1948 and 1949, passed away on January 30. Aschenbrenner was named the outstanding player of the 1949 Rose Bowl after scoring on a record-setting 73-yard run and rushing for a total of 119 yards. He is a member of the Northwestern Athletics Hall of Fame and the Rose Bowl Hall of Fame. After college, Aschenbrenner played one season for the AAFC's Chicago Hornets and one season for the CFL's Montreal Allouettes.
While at Northwestern, Aschenbrenner appeared on the 1948 Leaf football card pictured here. The 1948 Leaf set contains cards of both NFL and college players, with most of the college players falling among the scarce high numbers, 50-98. Aschenbrenner's card is number 93.