June 4th, 2011 | Published in Player Deaths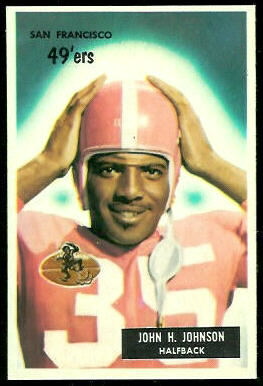 John Henry Johnson, who played fullback from 1954 to 1966 for the San Francisco 49ers, Detroit Lions, Pittsburgh Steelers, and Houston Oilers, passed away on June 3. Johnson also played one season, 1953, with the CFL's Calgary Stampeders.
Johnson was a four-time Pro Bowler, once with the 49ers and three times with the Steelers. He was also a member of the Lions NFL Championship team in 1957. He was inducted into the Pro Football Hall of Fame in 1987.
The card pictured here is Johnson's rookie card, a 1955 Bowman. Topps used the same image, recolored, on his 1957 Topps card. (See them side-by-side in an earlier blog article.) Johnson appeared on many other cards during his long career, as well.
Also see: