October 26th, 2011 | Published in error cards, Interesting eBay Auctions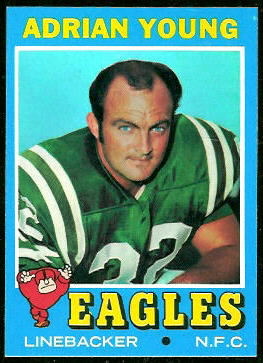 A while back, someone told me that Adrian Young's 1971 Topps card pictures not Adrian Young, but Rick Duncan. Today I searched for pictures of the two players to see for myself. As far as I know, neither of the players appeared on another standard football card, but I did find pictures of them on a few other items listed on eBay.
Rick Duncan, a kicker and punter, played in four games over three seasons for the Broncos, Eagles, and Lions. He had been out of football for two years by the time he showed up on Young's card. Topps apparently used a photo of Duncan from 1968, because he is pictured in an Eagles uniform, and 1968 was the season he spent with the Eagles. He evidently had a tryout with the Bears in 1967, because I found a press photo of him and Bruce Alford in Bears uniforms.
Adrian Young, a linebacker, played for six seasons with the Eagles, Lions, and Bears. I found two items that picture the real Adrian Young: a 1969 Eagles team issue photo and a 1972 NFLPA stamp. (Young is in the bottom row, second from the right.) I'd say there's not much resemblance between Young and Duncan.
Coincidentally, while searching for a photo of Young, I learned that he will be inducted into the USC Athletic Hall of Fame in 2012. I also found an article that says he once intercepted four passes in a game against Notre Dame. Unfortuately, the article uses the image from Young's 1971 Topps card–the one that pictures Rick Duncan!
For more vintage football cards that picture the wrong player, see my Mistaken Identities page and my blog article about errors in the inset photos on 1962 Topps football cards.