January 6th, 2010 | Published in Interesting eBay Auctions, Interesting Message Board Threads, Oddball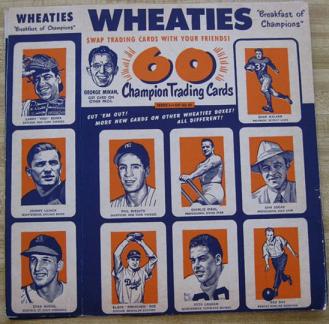 Today a collector on the Collectors Universe message boards posted pictures of 5 uncut panels of 1952 Wheaties Champions cards. From the looks of it, his panels are in great shape. The Wheaties Champions set is a multi-sport set, and it includes women as well as men. There are 10 cards on each panel, so the collector has 50 of the 60 cards in the set.
There are thirty athletes in the set, with each athlete appearing on both a portrait card and an "in action" card. Six of the athletes are football players: Doak Walker, Otto Graham, John Lujack, Tom Fears, Glenn Davis, and Bob Waterfield. I haven't yet added the football cards in the Vintage Football Card Gallery, but since there are only a few of them, I'll try to do that sometime soon. There is currently a full set listed on eBay, but I'll probably pick up individual cards as they become available. Surprisingly, though they were hand-cut from the boxes, most of the cards I see are in pretty good condition. I infer from this that people saved the full boxes, and the cards I'm seeing were cut from boxes relatively recently.