June 11th, 2010 | Published in Football Card Trivia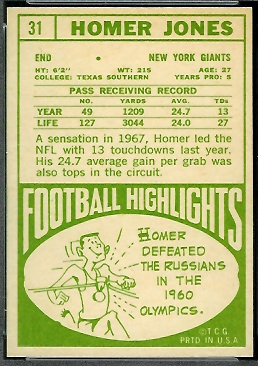 One day, while scanning cards, I noticed that the cartoon on the back of Homer Jones's 1968 Topps card said that "Homer defeated the Russians in the 1960 Olympics." Hmm, I thought, that's a good idea for a blog article. There was a problem, though: I couldn't find a reference saying that Jones had ever competed in the Olympics. He was a star sprinter at Texas Southern, and he might have defeated the Russians in some competition, but it doesn't appear to have been in the Olympic Games. (According to his Wikipedia page, however, Jones did invent the touchdown spike, which is "said to be the origin of post-touchdown celebrations." While not quite beating the Russians, that's still quite a legacy.)
In my research for Jones, I found a list of other pro football players who had competed in the Olympics. It's a long list, so I narrowed it down to those who had won medals, and then to those who appeared on vintage football cards. That left six players, a number suitable for a blog article. I also added one more I knew of, Brick Muller.
Jim Thorpe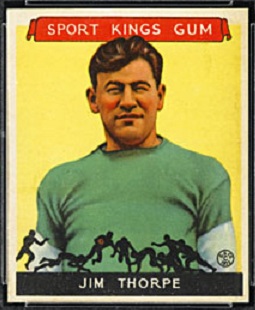 Jim Thorpe won gold medals in the pentathlon and decathlon in the Stockholm Olympics in 1912. In 1913, the International Olympic Committee took the medals away when they learned that Thorpe had played minor league baseball (and thus had been a professional athlete) before participating in the Olympics. In 1982, Thorpe's family succeeded in having his medals restored.
Thorpe played professional football from 1915 to 1928, for six different teams. He was a member of the Pro Football Hall of Fame's inaugural class in 1963. Thorpe also played professional baseball–including seven seasons in the major leagues–from 1909 to 1922. Pictured here is his rookie card, from the 1933 Sport Kings multi-sport set.
Harold "Brick" Muller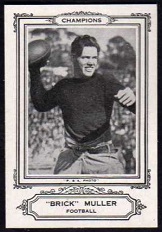 Brick Muller took a silver medal in the high jump at the 1920 Olympics in Antwerp. He played and coached one season in the NFL, 1926, for the Los Angeles Buccaneers. (The Buccaneers lasted just one season in the NFL.) Like Jim Thorpe, in 1951 he was among the inaugural class of players elected to College Football Hall of Fame. Muller is shown here on his 1926 Spalding Champions card. He also appeared on a 1955 Topps All-American football card.
Clyde Scott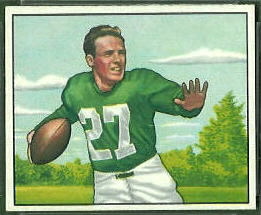 Clyde Scott won a silver medal in the 110 meter hurdles in the 1948 Olympics in London. He played four seasons in the NFL, as a running back and defensive back for the Eagles and Lions. He appeared on the 1950 Bowman card pictured here, and on a 1951 Bowman card. According to Scott's profile on the Encyclopedia of Arkansas web site, the readers of the Arkansas Democrat-Gazette named Scott the state's Athlete of the Century in 2000.
Ollie Matson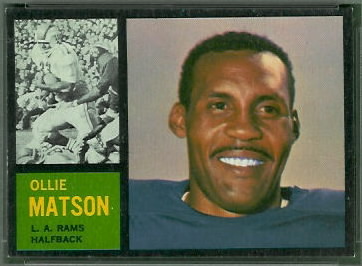 Ollie Matson won a bronze medal in the 400 meters and a silver in the 1600 meter relay in the 1952 Olympics in Helsinki. He then had a fourteen-year, Hall of Fame career in the NFL. Matson appeared on a lot of cards. Pictured here is his 1962 Topps card.
Bo Roberson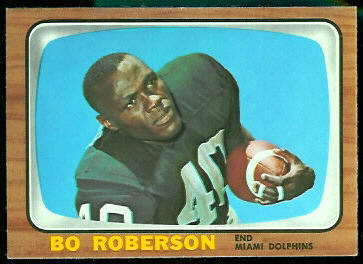 Bo Roberson took silver in the long jump in the 1960 Olympics in Rome, missing the gold medal by a centimeter. He then played six seasons in the AFL, for four different teams. His 1966 Topps card is pictured here. According to a his profile at ivy50.com, after football, Roberson attended law school, earned a master's degree at Whitworth College, and earned his doctorate degree at age 58. Wow.
Bob Hayes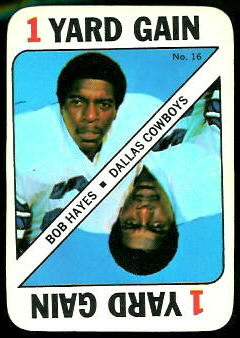 "Bullet" Bob Hayes won two gold medals in the 1964 Tokyo Olympics, in the 100 meter sprint and 400 meter relay. Hayes then played wide receiver for eleven years for the Cowboys and 49ers, and he was elected to the Pro Football Hall of Fame in 2009. Hayes appeared on many football cards; the one pictured here is a 1971 Topps Game card.
Henry Carr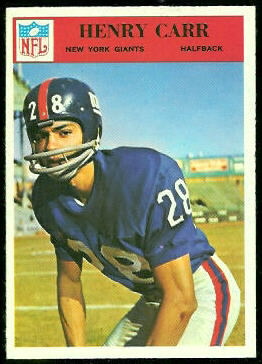 Henry Carr also won two gold medals in the 1964 Tokyo Games, in the 200 meter sprint and 1600 meter relay. The New York Giants, according to an article at pe.com, then signed Carr primarily to cover Bob Hayes. Carr spent three years with the Giants, the highlight of his career being a 101-yard interception return for a touchdown in 1966. His 1966 Philadelphia card is pictured here.