March 10th, 2013 | Published in Player Deaths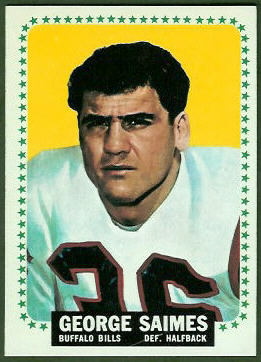 George Saimes, who played defensive back from 1963 to 1972 for the Buffalo Bills and Denver Broncos, passed away on March 8. There is a tribute to Saimes on the Buffalo Bills web site. Saimes was an AFL All-Star five times, and he played on Buffalo's 1964 and 1965 AFL championship teams. He was elected to the Bills Wall of Fame in 2000.
Before his pro career, Saimes starred at both fullback and defensive back at Michigan State. In 1962 he finished seventh in voting for the Heisman Trophy. He was inducted into the MSU Athletics Hall of Fame in 2000.
Saimes is pictured here on his rookie card, a 1964 Topps. He appeared on numerous other cards and stamps, as well.