June 27th, 2011 | Published in error cards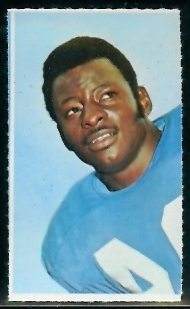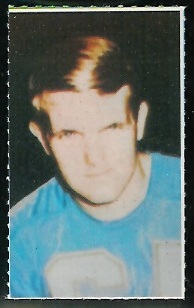 Last week, while I was scanning 1969 Glendale Stamps for the Vintage Football Card Gallery, I noticed that the Bob Griese and Mel Farr stamps have reversed images. The players' jersey numbers were what clued me in: Griese wore number 12 for the Dolphins, and Farr wore number 24 for the Lions. I'll bet that there are more reversed images in the set, but most of the players' jersey numbers are not visible, so it is hard to tell.
There are several other reversed images in the Gallery: Charley Trippi on one variation of his 1948 Kellogg's Pep card; Bill Wade, Doug Atkins, and Frank Varrichione on their 1960 Topps cards, and Dick Butkus and Joe Namath on variations of their 1972 NFLPA Vinyl Stickers.