April 3rd, 2013 | Published in Milestone Birthdays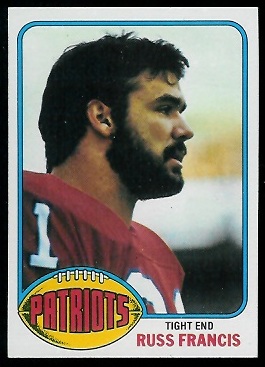 Russ Francis, who played tight end for thirteen seasons with the New England Patriots and San Francisco 49ers, is celebrating his 60th birthday today. Francis was a three-time Pro Bowler, and he played on the 1984 49ers team that finished 18-1 and won Super Bowl XIX.
Francis excelled in other sports, as well. In 1971, at Pleasant Hill High School in Oregon, he set the national high school record for the javelin. In the 1974 Major League Baseball June Amateur Draft, the Kansas City Royals drafted him as a pitcher. He also wrestled professionally, and he placed second in the 1980 U.S. Superstars competition.
Francis is pictured here on his rookie card, a 1976 Topps.
Happy birthday, Mr. Francis!