April 30th, 2010 | Published in ABCs of Vintage Football Cards, General Collecting Info
Old football cards weren't packaged just with bubble gum. They also came in and on packages of cereal, bread, hot dogs, potato chips, and dairy products. Some food issues were regional: they included players from a single team and were distributed only in that team's part of the country. I covered most of those issues in K is for KDKA–and Other Regional Sets. In this article I'll cover the food issues that were distributed nationally and included players from multiple teams.
1974-1976 Wonder Bread and Town Talk Bread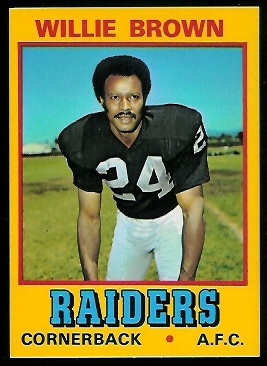 In 1974, 1975, and 1976, Topps printed small sets of football cards for distribution by Wonder Bread. The cards from all three sets are plain, plentiful, and cheap. The 1974 Wonder Bread set includes thirty cards of star players, and its design closely resembles 1971 Topps. The cards of the offensive players, punter, and kicker have red borders, and the cards of the defensive players have yellow ones. Some of the images on the Wonder Bread cards–such as the Willie Brown pictured here–also appear in Topps sets.
The 1975 and 1976 Wonder Bread sets each contain twenty-four cards. Each set represents an all-star starting lineup: offense, defense, kicker, and punter. I described these sets in "New in the Gallery" blog articles, so I'll just point you to those: 1975 Wonder Bread Cards and 1976 Wonder Bread Cards.
Topps also printed a variation of each Wonder Bread set for Town Talk Bread, a brand that was distributed only in Western Pennsylvania. I did a little research, and I found that in 2005, the Town Talk and Wonder Bread brands were owned by the same company. Apparently, the two companies were already affiliated in the mid-1970s.
The differences between the Wonder Bread and Town Talk cards are trivial. According to Beckett, the 1974 Town Talk cards "are distinguished from the Wonder Bread issue by the absence of a credit line at the top of the cardback." On the 1975 and 1976 Town Talk cards, the credit line on the back reads "Town Talk Bread All-Star Series," rather than "Wonder Bread All-Star Series."
Because they were distributed in only one area, the Town Talk cards are much scarcer than the Wonder Bread cards. Most of the Town Talk cards I see are priced ten times higher than their Wonder Bread counterparts. You can usually find a few Town Talk cards on eBay.
1962 Post Cereal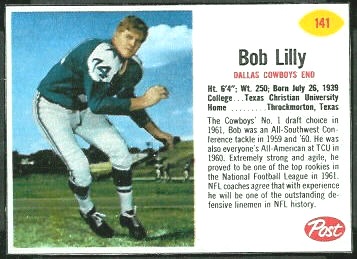 1962 Post Cereal was a large set for its time, with 200 cards. The cards came on the backs of cereal boxes, several to a box, so they are all hand-cut. The set contains several pre-rookie cards of Hall of Fame players; one of them is the Bob Lilly pictured here. You can see the rest on my pre-rookie card page.
The images on the Post cards are amusing. Most show the players in fake action shots, and the players appear to be hunching over to fit into the frame. Y.A. Tittle is wearing his helmet, of course, and I believe he is the only helmeted player in the set. (See Y.A. Kept His Hat On.) As I wrote in a previous article, the Post cards used footnotes to indicate which players had been traded during the off-season. Each card of a traded player shows both his old team and his new one. I can't think of another vintage football card set that explicitly identifies the traded players.
Two of the cards in the Post set have variations. Both cards, Jim Ninowski and Sam Baker, have footnotes because the players had been traded. On each of these cards, the asterisk for the footnote can be either black or red. Yes, we nutty card collectors need to have them both.
1952 Wheaties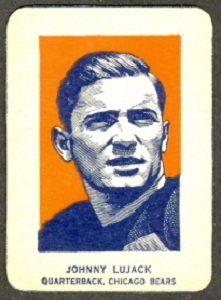 The 1952 Wheaties set is a sixty-card, multi-sport set. It contains two cards each for thirty athletes, and the cards came ten to a box on Wheaties boxes. The cards are slightly smaller than standard trading cards, at 2 by 2 3/4 inches.
Six of the thirty athletes in the set–and hence, twelve of the cards–are football players: Doak Walker, Otto Graham, John Lujack, Tom Fears, Glenn Davis, and Bob Waterfield. You can see the football cards in the 1952 Wheaties set in the Vintage Football Card Gallery.
1970 and 1971 Kellogg's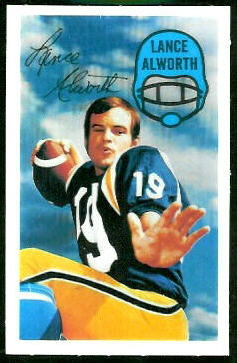 Yet another cereal company, Kellogg's, got into the football card game in 1970. Kellogg's included small, plastic-on-paper "3-D" cards in their cereal boxes in both 1970 and 1971. The Lance Alworth card pictured here is a 1970 Kellogg's card; the Jim Hart is a 1971 Kellogg's.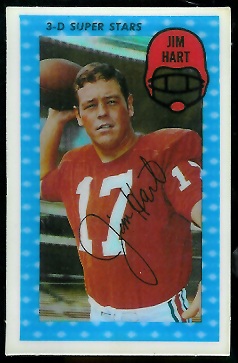 The Kellogg's cards came in thin paper wrappers that you could see through, and I know at least one person who collects the cards still in the wrappers. I make fun of him, but I actually think it's cool. The 1970 Kellogg's cards were available as a complete set via mail order, but the 1971 cards weren't, so the 1971 cards are scarcer. The plastic coating on the cards makes the corners sturdier than cardboard, so the cards are easy to find in high grades. The plastic is susceptible to cracking, however.
Both sets feature facsimile signatures on the front, and lots of stats and detailed personal information in tiny print on the back. They're pretty cool cards, and I imagine that kids made their moms buy lots of cereal to get them.
You can see both 1970 Kellogg's and 1971 Kellogg's football cards in the Vintage Football Card Gallery.
Other Food Issues
As I said at the top, several other food issues were distributed regionally. These regional issues include 1959 and 1960 Bell Brand Rams, 1960 Mayrose Cardinals, 1961 Lake to Lake Packers, and 1961 Golden Tulip Chargers. You can read about them in K is for KDKA–and Other Regional Sets.
One group of food issues I haven't covered yet is the run of 1959-1964 Kahn's Wieners sets. I'll write about those in a separate article.