January 21st, 2013 | Published in Milestone Birthdays, Record Holders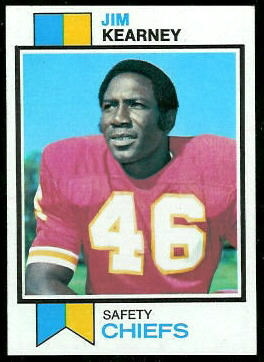 Today is a milestone birthday for two players in the Vintage Football Card Gallery: Jim Kearney is 70 years old, and Tony Davis is 60.
Kearney played defensive back from 1965 to 1976 for the Detroit Lions, Kansas City Chiefs, and New Orleans Saints. He was a member of the Chiefs team that won Super Bowl IV against the Vikings. In 1972, Kearney returned four interceptions for touchdowns, tying an NFL record. He still shares that record with Ken Houston and Eric Allen.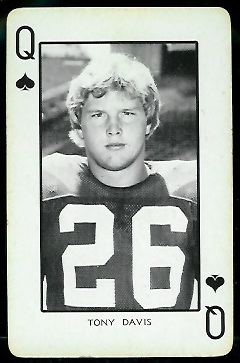 Kearney is pictured here on his rookie card, a 1973 Topps. He also appeared on a few other cards and stamps.
Tony Davis was a running back from 1976 to 1981 for the Cincinnati Bengals and Tampa Bay Buccaneers. He also returned punts for two seasons with the Bengals. As far as I know, Davis did not appear on any regular issue football cards, but he did appear on University of Nebraska Playing Cards in 1973 and 1974. His 1973 card is pictured here, and you can see his 1974 card in the Gallery.
Happy birthday, Messrs. Kearney and Davis!