July 1st, 2009 | Published in Funny Poses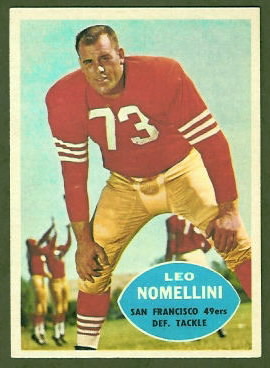 Most of us have taken photos in which our subjects appear to have trees growing out of their heads. We shouldn't feel bad: the professional photographers for sports cards sometimes miss things in the background, too. Here are a few cards with funny stuff happening behind the players.
First we have Bart Starr's 1961 Fleer card. A stadium light in the background makes Bart appear to have a knob on his head, and there's a little man with a machine gun shooting Bart in the neck. Fleer also got the Packers' logo backward, as they did on all of the Packers cards in 1961.
Next up is a 1965 Philadelphia Bob DeMarco card, in which Bob appears to have a few extra appendages. Bob doesn't seemed bothered by it.
Finally, we have a 1960 Topps Leo Nomellini card, with a couple of Leo's Lilliputian teammates praising him. Leo, focused on the camera and accustomed to adulation, is ignoring them.