December 21st, 2013 | Published in Interactive Team Cards, New in the Gallery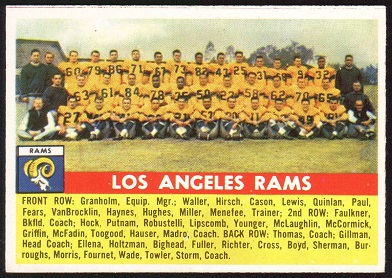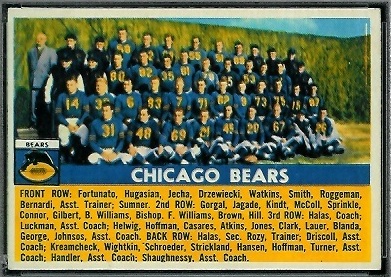 Last week I added interactive 1956 Topps Los Angeles Rams and Chicago Bears team cards to the Vintage Football Card Gallery. You can see them by clicking on the non-interactive images shown here.
Like the other team cards in the 1956 Topps set, these two cards picture the 1955 teams. I believe that all of the players on the Rams card also appear in the 1955 Rams Team Issue set. About six of the players on the Bears card never appeared on cards of their own, so it was nice to give them a little recognition. One of the Bears players, Harry Hugasian, played part of the 1955 season for Baltimore, and he also appears on the Colts team card.
I have now finished making all of the 1956 Topps team cards intereractive; you can see the whole array here. Next up are the team cards in the 1958 Topps set.