June 17th, 2012 | Published in Fathers and Sons
As I have mentioned in other articles, I have been gradually adding fun facts for the cards in the Vintage Football Card Gallery. In May I identified the players whose brothers also played pro football (see my blog article Teammate Brothers), and this month I marked the players whose fathers or sons also played professionally. I used the Pro Football Hall of Fame's list as a reference.
Many of the players on the Hall of Fame's list never appeared on cards, and some of them appeared on newer cards that I don't yet have in the Gallery. I did find five pairs of fathers and sons who both appear in the Gallery, though. In honor of Father's Day, here they are:
Tony Adamle played six seasons for the Cleveland Browns in the AAFC and NFL; his son Mike played six seasons for the Chiefs, Jets, and Bears. Tony is pictured here on his 1951 Bowman card, and Mike on his 1975 Topps card.


Ted Fritsch Sr., a member of the Green Bay Packers Hall of Fame, played from 1942 to 1950 for the Packers. Ted Fritsch Jr. played from 1972 to 1979 for the Falcons and Redskins. Ted Sr. appears here on his 1950 Bowman card; Ted Jr. is shown on his 1974 Topps card.


Dub Jones played for the Miami Seahawks, Brooklyn Dodgers, and Cleveland Browns in the AAFC, and he remained with the Browns when they joined the NFL in 1950. He is shown here on his 1953 Bowman card. Bert Jones, Dub's son, was a quarterback for ten seasons with the Baltimore Colts and Los Angeles Rams. His 1976 Topps card is shown here.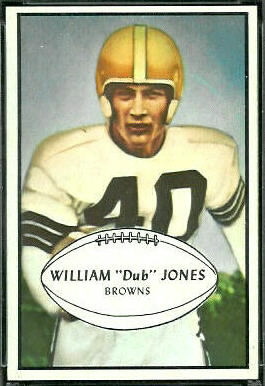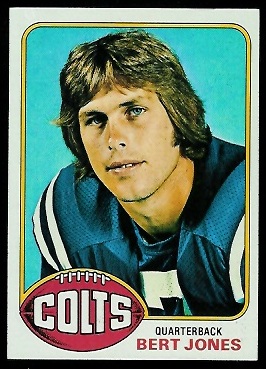 George Sauer Sr. played from 1933 to 1935 for the Green Bay Packers; he is shown here on his 1955 Topps All-American card. George Jr. played from 1966 to 1970 for the New York Jets; he is shown on a 1969 Glendale stamp.


Finally, George Wilson Sr. played for the Chicago Bears for ten seasons, and he was head coach of the Detroit Lions and Miami Dolphins for thirteen. Wilson never appeared on a card of his own, but there is a small image of him on the 1964 Philadelphia Lions' Play card shown here. Wilson's son, George Jr., played for his father for one season at Miami. His 1967 Topps card is shown here.