May 31st, 2011 | Published in Player Deaths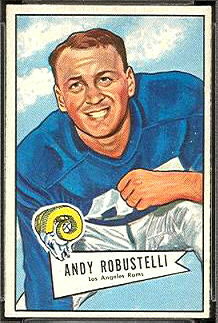 Andy Robustelli, a defensive end from 1951 to 1964 for the Los Angeles Rams and New York Giants, passed away this morning. The Connecticut Post's web site has a report of his death, including numerous photos. Robustelli was a seven-time Pro Bowler, and he played on NFL Championship teams with the Rams in 1951 and the Giants in 1956. He was inducted into the Pro Football Hall of Fame in 1971.
The card shown here is one of Robustelli's rookie cards, a 1952 Bowman Small. His other rookie card is a 1952 Bowman Large, which is identical except for its size.